THIS DAY IN VIRGINIA HISTORY
Click image for larger view.
September 29, 1964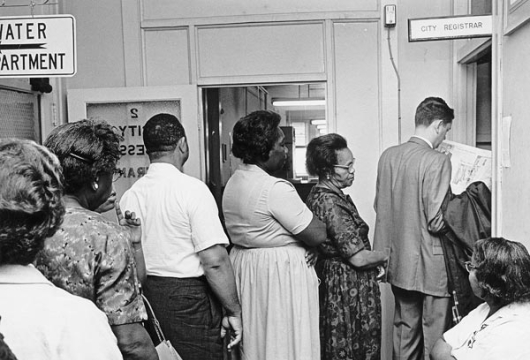 African Americans Registered in Portsmouth
During the final years of the nineteenth century, Virginia and other southern states passed "Jim Crow" laws that enacted racist regulations to segregate and repress African Americans. Through poll taxes and literacy tests, African Americans were barred from exercising their right to vote. In 1964 with the ratification of the 24th Amendment to the United States Constitution, poll taxes for federal elections were outlawed. Shortly following, Congress enacted the Voting Rights Act of 1965 banning the use of literacy tests when registering voters. A century after the end of the Civil War, whites and blacks, rich and poor were all allowed to exercise their power at the polls.