THIS DAY IN VIRGINIA HISTORY
Click image for larger view.
September 21, 1920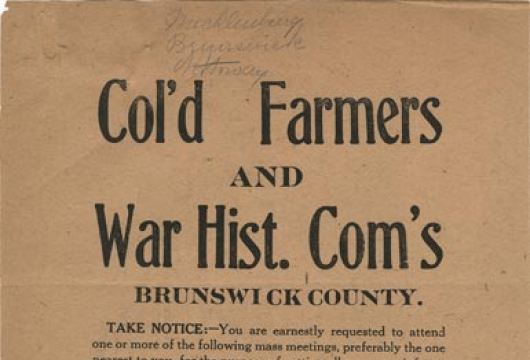 The War History Commission Held a Meeting for African American Farmers in Brunswick County
The Virginia War History Commission was created by Virginia governor Westmoreland Davis (1859–1942) in 1919 in order "to complete an accurate and complete history of Virginia's military, economic and political participation in the World War." The commission sought information on various topics and collected letters and diaries written during World War I. One way the commission gathered information was through printed questionnaires distributed to veterans. Local branches tried a variety of methods to get soldiers to complete the questionnaires. In Brunswick County several schools and churches held meetings and gathered speakers over three days in September in order to retrieve information from the African American soldiers who had served from Brunswick County.