THIS DAY IN VIRGINIA HISTORY
Click image for larger view.
September 19, 1864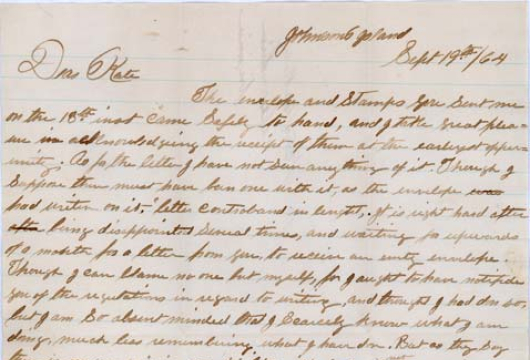 Wesley Makely Wrote to His Wife from Johnson's Island
Wesley Makely (1835–1895) resided with his wife, Catherine Appich Makely (1840–1927), in Alexandria where he was a merchant. During the Civil War, he served as a captain of Company D, 18th Virginia Cavalry, CSA. In 1863 Makely was captured near Hancock, Maryland, and sent to Johnson's Island Prisoner of War Depot, a Union prison camp in Ohio. He was later sent to Point Lookout in Maryland and released from Fort Delaware on May 9, 1865. At Johnson's Island on Lake Erie more than 9,000 prisoners were held during the prison's three years of operation. In the letter to his wife, Makely discussed his health and correspondent regulations.
Related Links: