THIS DAY IN VIRGINIA HISTORY
Click image for larger view.
September 13, 1723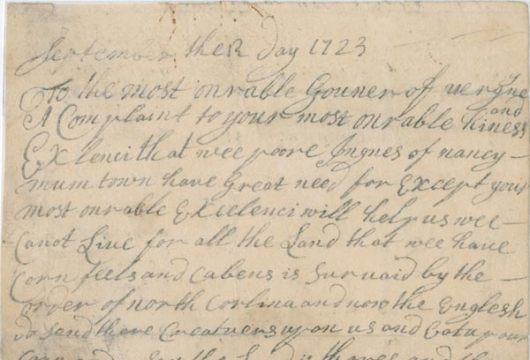 Indians at Nansemond Town Petitioned the Governor
The Nansemond tribe was a part of Powhatan's paramount chiefdom when the English arrived in Virginia in 1607. The Meherrin were an Iroquoian-language tribe who lived near the Nansemond. By the eighteenth century, some of the Nansemond lived on a reservation near the North Carolina border. The Meherrin had a reservation near their original settlement, but some had also joined the Nansemond. In this petition the Indians asked Lieutenant Governor Hugh Drysdale (ca. 1670–1726) to protect the Native Virginians' lands from encroachment by North Carolina colonists.
Related Links: