THIS DAY IN VIRGINIA HISTORY
Click image for larger view.
November 22, 1910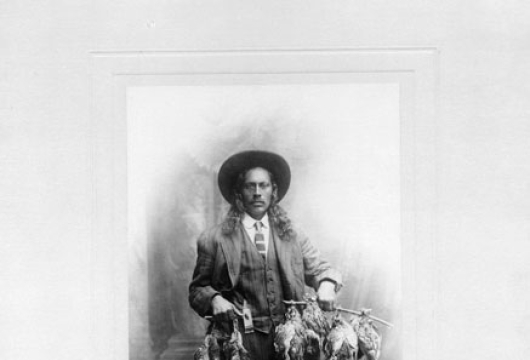 Chief George Cook Presented the Governor with Fowl
This photograph of Chief George Major Cook (1860–1930) of the Pamunkey Indian tribe was taken when he visited the governor's mansion to present Governor William Hodges Mann (1843–1927) with the tribe's annual tribute. That year's presentation coincided with a visit of President William Howard Taft (1857–1930) to Virginia. The Pamunkey gift of local game to the governor became an autumn tradition in the twentieth century. Chief Cook instigated a change in the timing of the gift in order to accentuate the Pamunkeys' profile during deer season. Under the terms of a treaty of 1646 the Powhatan tribes were required to pay "twenty beaver skins" to the governor "at the goeing away of Geese yearely" (early spring), which exempted them from paying other taxes.