THIS DAY IN VIRGINIA HISTORY
Click image for larger view.
November 07, 1848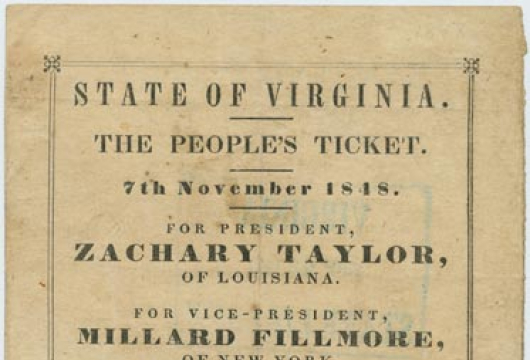 A Presidential Election Was Held
This ticket, printed for the Whig party nominees for the presidency and vice presidency, Zachary Taylor (1784–1850) and Millard Fillmore (1800–1874), lists the electors for Virginia. When voters cast a ballot for the presidency, they actually are voting for a slate of presidential electors. The Electoral College meets in December to cast the official vote for president. Today electors in twenty-six states and the District of Columbia, including Virginia, are bound by state law or pledges to vote for the candidate for which they were chosen. Electors in twenty-four states are not bound by law to cast their vote for a specific candidate. In the history of the United States more than 99 percent of electors have voted as pledged. A candidate currently needs 270 electoral votes to gain the majority and win the presidency.
Related Links: