THIS DAY IN VIRGINIA HISTORY
Click image for larger view.
May 27, 1797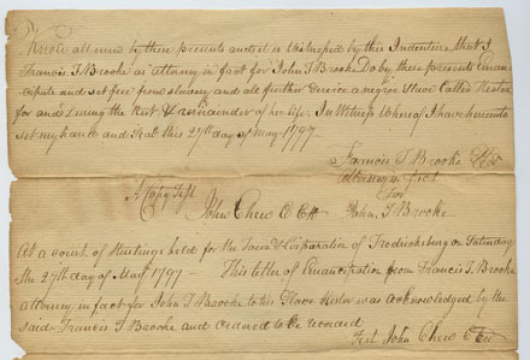 Hester Was Emancipated
When Hester, a freed woman formerly owned by John T. Brooke, moved to Alexandria County (Virginia ceded Alexandria to the federal government in 1789. It became a part of the District of Columbia in 1801, was returned to Virginia in 1846, and was renamed Arlington County in 1920), she was required to register with the county clerk's office. More than likely she brought her emancipation papers from Fredericksburg and probably received a new paper similar to this one. She was then required to keep her papers on her at all times to show that she was free. An act of assembly in 1782 that allowed slave owners to emancipate enslaved persons without a special act of assembly also created this requirement for the freed people.
Related Links: