THIS DAY IN VIRGINIA HISTORY
Click image for larger view.
May 25, 1959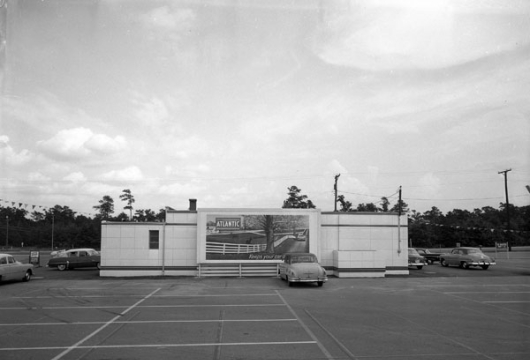 Adolph Rice Photographed An Atlantic Refining Company Filling Station
Atlantic Refining Company of Pennsylvania was established in 1866. The company opened its first gasoline station in 1915 in Pittsburgh. The company spread, opening stations in several East Coast states. In 1966 the company merged with the Richfield Oil Company and assumed the name of Atlantic Richfield Company. In the 1980s the company divested itself of many of its gasoline stations east of the Mississippi River and began using the acronym, ARCO, almost exclusively. In 2000 British Petroleum (BP) acquired ARCO. Today there are ARCO gas stations in five states, Arizona, California, Nevada, Oregon, and Washington. In this photograph of the company's station in Richmond, the billboard advertises "Atlantic' keeps your car on the go!"
Related Links: