THIS DAY IN VIRGINIA HISTORY
Click image for larger view.
March 20, 1944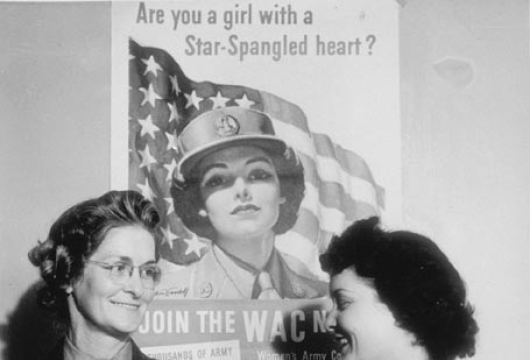 A Photograph Was Taken of WAC Mother and Daughter Team
The caption on this photograph reads, "Pvt. Mary Harms and her daughter, Pvt. Margaret L. Harms, first mother and daughter team to enlist in the Wacs at HRPE" (Hampton Roads Port of Embarkation). During World War II, the WAC, Women's Army Corps of the United States Army, served both at home and overseas. First created in 1942 as an auxiliary unit, the Women's Auxiliary Army Corps (WAAC), the organization proved unwieldy and in 1943 women received full military status as WACs. The first women other than nurses to work in the Army, WACs were not deployed in combat. In 1978 the WAC was abolished, and women ceased to be part of a separate unit, but were integrated into the regular Army.