THIS DAY IN VIRGINIA HISTORY
Click image for larger view.
March 14, 1750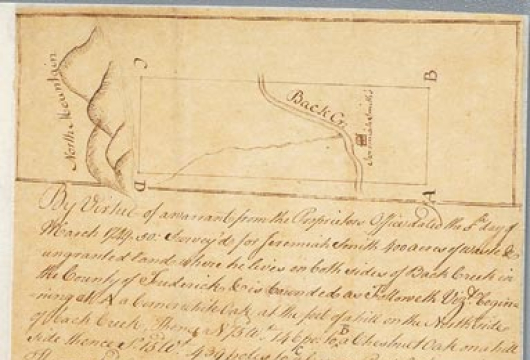 John Mauzy Surveyed Land in Frederick County
John Mauzy surveyed 400 acres of land for Jeremiah Smith in Fredrick County, a part of the Northern Neck Proprietary. Smith received the grant for that land on January 14, 1751/1752. The Northern Neck Proprietary consisted of 5,282,000 acres located between the Rappahannock and Potomac Rivers. The first Northern Neck land grant was issued in 1690. Individuals purchased warrants for a specified amount of land in a particular location. The warrants were taken to a surveyor and the land surveyed. The plat and any accompanying papers were returned to the proprietor's office, and a grant was issued.