THIS DAY IN VIRGINIA HISTORY
Click image for larger view.
March 05, 1919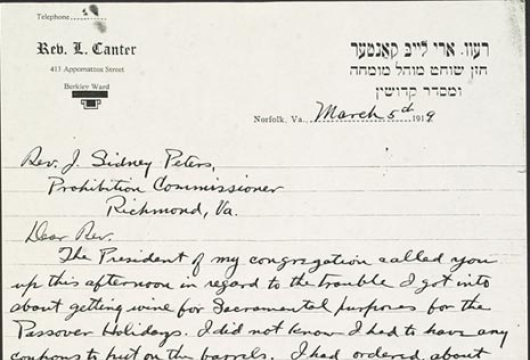 Rev. Louis Canter Wrote to the Prohibition Commissioner
The Virginia Prohibition Act passed in 1916 regulated the transportation of alcoholic beverages, or "ardent spirits," into and within Virginia. In 1918 laws concerning prohibition were clarified and altered under the Mapp Prohibition Act, which also outlawed the manufacturing of spirits. Prior to the ratification of the 18th Amendment to the U.S. Constitution in 1919, people often did not know the specifics of laws regarding the transportation of alcohol in Virginia. Rabbi Louis Canter of Norfolk was arrested for failing to secure permits for a shipment of 100 gallons of wine for the Passover holiday. Canter professed ignorance of the law and was released on bail after securing the necessary permits.
Related Links: