THIS DAY IN VIRGINIA HISTORY
Click image for larger view.
July 25, 1809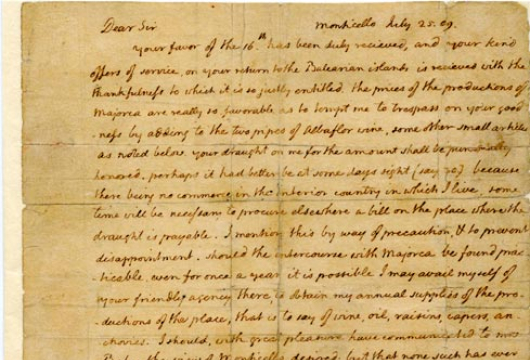 Thomas Jefferson Wrote to John Martin Baker
Thomas Jefferson (1743–1826) wrote this letter to John Martin Baker (d. 1841) to request that he purchase for the former president some wine and delicacies from Majorca. Baker was the United States consul for the islands of Minorca, Majorca, and Ibiza, three of the Balearic Islands in the Mediterranean Sea near Spain. Jefferson also mentions in his letter that the famous artist, architect, and engineer Benjamin Henry Latrobe (1764–1820) had promised that he would be visiting Monticello and would paint a picture of the house that Jefferson would be happy to give to Baker's wife.