THIS DAY IN VIRGINIA HISTORY
Click image for larger view.
July 13, 1925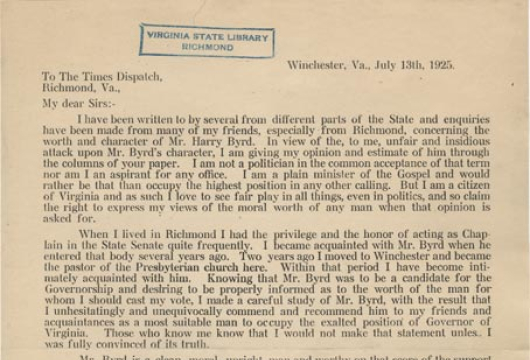 F. T. McFaden Wrote a Letter Endorsing Harry Byrd for Governor
Frank Talbot McFaden (1864–1933) was a Presbyterian minister in Winchester. He met Harry Flood Byrd (1887–1966) when McFaden was serving as the chaplain to the State Senate and later became acquainted with him in Winchester. This letter by McFaden, glowingly recommending Byrd for his moral and religious character, was originally published in the
Richmond Times-Dispatch
. Byrd was elected governor of Virginia and served from February 1, 1926 to January 15, 1930. He then served in the United States Senate from March 4, 1933 to November 10, 1965.