THIS DAY IN VIRGINIA HISTORY
Click image for larger view.
July 01, 1915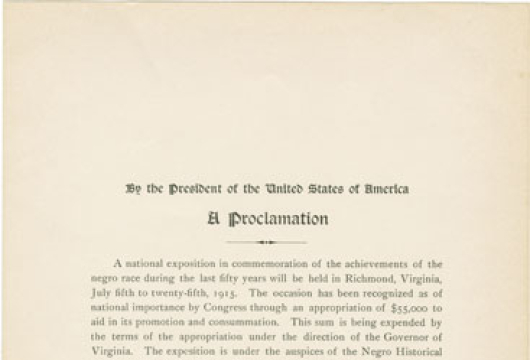 Woodrow Wilson Proclaimed An Exposition to Commemorate African American Achievements
This proclamation announced to the nation the support of the president and Congress for the National Negro Exposition held in Richmond from July 5 to July 25 to commemorate the accomplishments of the African American race during the fifty years since the abolition of slavery. The exposition was held at the Virginia State Fairgrounds, and featured works from African American schools, clubs, and organizations from more than twelve states. The exhibits included artwork, needlework, furniture, machines, and other products of African American craftmanship. In addition to the exhibition halls, a midway was open with a variety of vaudeville acts, sideshows, and daily horse races.
Related Links: