THIS DAY IN VIRGINIA HISTORY
Click image for larger view.
January 06, 1631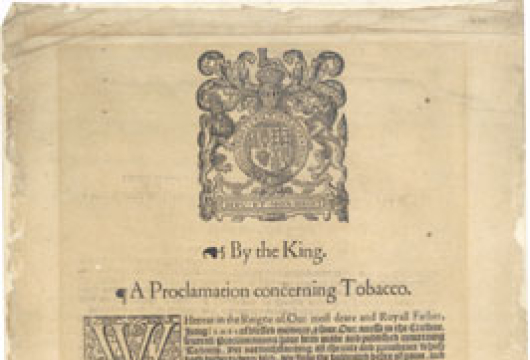 King Charles I Issued A Proclamation Concerning Tobacco
This proclamation issued by King Charles I (1600–1649) on January 6, 1630 (1631 by the modern calendar), regulated the tobacco trade. The king sought to forbid tobacco production in the British Isles, regulate the quality of the tobacco produced in the American colonies, and prohibit the importation of tobacco from other European colonies. Although James I (1566–1625) had published a 1604 pamphlet,
A Counterblaste to Tobacco
, criticizing the use of tobacco,
A Proclamation Concerning Tobacco
illustrated that by 1630 tobacco was a valuable import and that King Charles I was seeking to maximize its economic benefit and increase the royal revenue.
Related Links: