THIS DAY IN VIRGINIA HISTORY
Click image for larger view.
December 13, 1862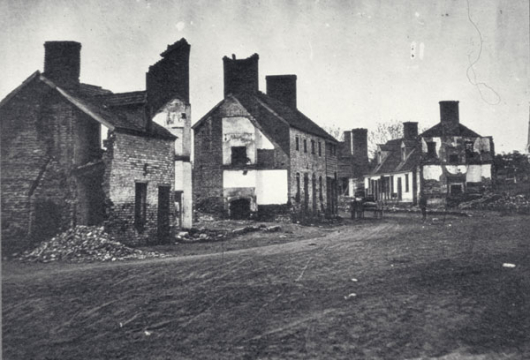 Fredericksburg Was Damaged During a Civil War Battle
During the U.S. Civil War, Major General Ambrose E. Burnside (1824–1881) began shelling Fredericksburg on December 11, 1862, to provide cover as Union soldiers crossed the Rappahannock River and entered the city. The ensuing Battle of Fredericksburg proved a victory for the Confederate forces led by General Robert E. Lee (1807–1870). This photograph, taken on the last day of the battle, shows the shocking destruction wrought during the fight. It is part of the collection of photographs prepared for the Virginia Room Exhibit at the 1939 World's Fair in New York City.
Related Links: