THIS DAY IN VIRGINIA HISTORY
Click image for larger view.
December 07, 1941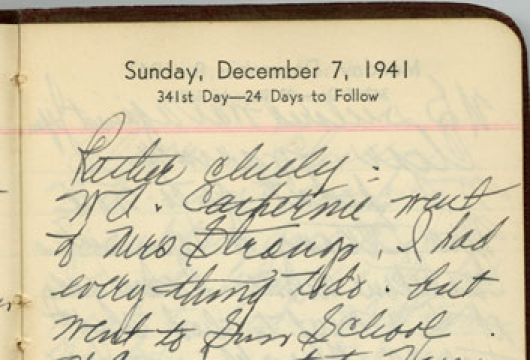 Martha Ann Harris Strong Recorded the Attack on Pearl Harbor
Martha Strong (1902–1995) of Hanover County kept a daily diary from 1922 until her death in 1995. Among her notations of weather, social occasions, and the day-to-day work that she and her husband William Atwell Strong (d. 1972) performed, she also kept up with national and world events. What is interesting to note about this entry is her unemotional mention of the attack on Pearl Harbor. She simply wrote that she "came home. Japan attacked the Hawaiian Islands. We heard the message over Radio." The bombardment of the Hawaiian port by Japanese aircraft precipitated the United States entry into World War II.
Related Links: