THIS DAY IN VIRGINIA HISTORY
Click image for larger view.
December 04, 1948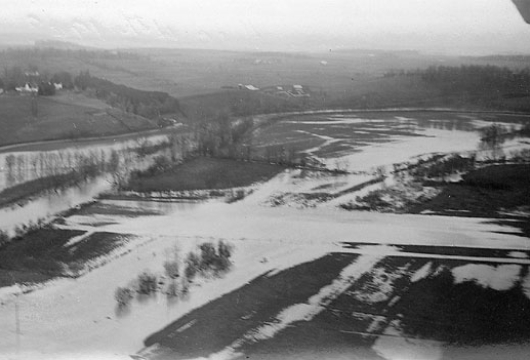 Waynesboro Was Flooded
This aerial photograph taken near Waynesboro on December 4, 1948, shows flooded streams and fields following heavy rains in the Blue Ridge Mountains that caused the James, New, North Anna, South, Otter, and Roanoke Rivers to flood and that temporarily closed some secondary highways, halted some train service, and forced Staunton to postpone its pre-Christmas parade. Flooding is a perennial problem in the mountainous region, as rainwater runs down the mountains inundating watersheds. Flood mitigation programs and projects are constantly at work to lessen the effects of floodwaters on businesses and residential areas.
Related Links: