THIS DAY IN VIRGINIA HISTORY
Click image for larger view.
August 24, 1922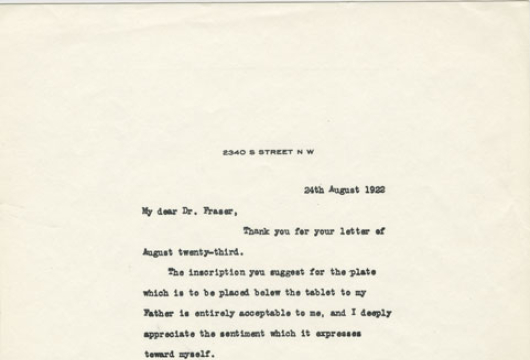 Woodrow Wilson Wrote a Letter to Dr. Abel M. Fraser
Former United States President Woodrow Wilson (1856–1924) wrote to Dr. Abel McIver Fraser of the First Presbyterian Church in Staunton to register his approval of a tribute to be placed in the sanctuary in honor of his father. Joseph Ruggles Wilson (1822–1903) served as the pastor of the church from 1855 to 1857, before accepting a position in Augusta, Georgia. The plaque praises the Reverend Wilson's "singular genius" and "genial and lovable gifts of every kind." Woodrow Wilson was born on December 28, 1856, in the church's manse in Staunton.