THIS DAY IN VIRGINIA HISTORY
Click image for larger view.
August 22, 1886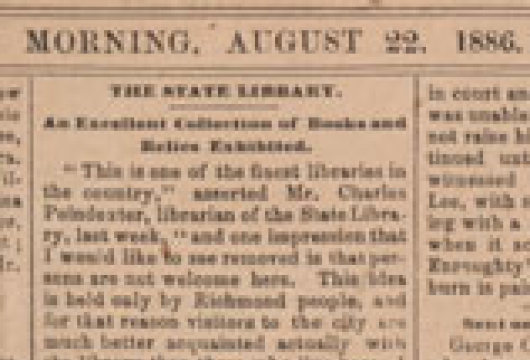 The Richmond Dispatch Published An Article About the State Library
This article about the Virginia State Library (now the Library of Virginia) relates an interview with Charles Poindexter (d. 1920), the man the secretary of the commonwealth, who was the defacto state librarian at that time, had hired to manage the library. The library was then housed on the third floor of the Capitol building. Poindexter encouraged Richmonders to visit the library, which consisted of about 35,000 volumes in addition to many artifacts and pieces of art. Currently the library is housed in a six-story building at 800 East Broad Street. Still a repository for the State's art collection, it houses the most comprehensive collection of materials on Virginia government, history, and culture available anywhere.