THIS DAY IN VIRGINIA HISTORY
Click image for larger view.
August 17, 1868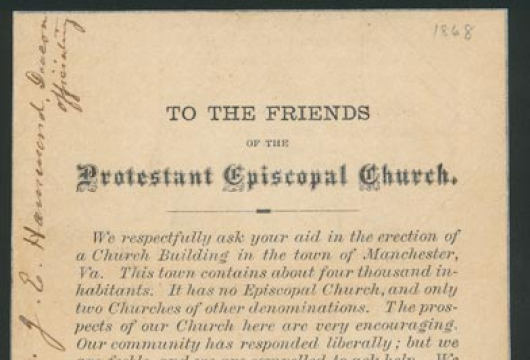 A Ladies' Group Appealed For Church Building Financing
This broadside was at least the second printing of this appeal by the Ladies' Finance Committee, a group in Manchester that was raising funds to build an Episcopal church. The married women, as was typical of the time, signed themselves by their husband's names. Their appeals apparently were heeded, and Meade Memorial Episcopal Church was built in Manchester in 1869. The Reverend James E. Hammond signed this broadside, adding his personal request for money. Hammond was the pastor at Meade Memorial Church until 1874. In the twentieth century, the congregation replaced the church building and it became Saint Luke's Episcopal Church. The 1869 building is used by another congregation and in 2006 it was placed on the National Register of Historic Places as a part of the Manchester Residential and Commercial District.
Related Links: