THIS DAY IN VIRGINIA HISTORY
Click image for larger view.
August 16, 1775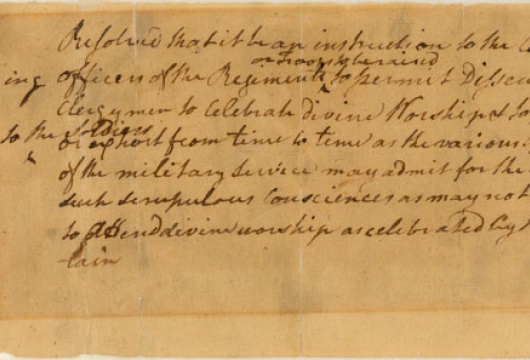 The Third Virginia Convention Adopted a Resolution
Virginia held five Revolutionary Conventions between 1774 and 1776. The third Virginia Convention was held from July 17 to August 26, 1775. On August 16, the members adopted a resolution to instruct officers to allow dissenting preachers (preachers of denominations other than Church of England) to hold services for Virginia soldiers. This action was revolutionary, as the Church of England was the established church in Virginia, and Church of England clergymen were allowed to serve as paid chaplains in Virginia regiments. This draft of the convention's resolution was written by Patrick Henry (1736–1799), but it did not authorize payment to the dissenting ministers.