THIS DAY IN VIRGINIA HISTORY
Click image for larger view.
August 12, 1908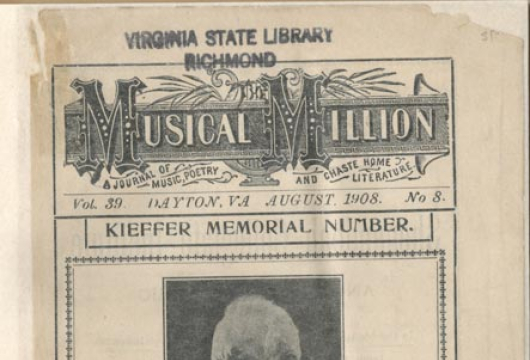 Musical Million Memorialized Aldine S. Kieffer
The periodical,
Musical Million
, was founded in 1870 by Aldine Silliman Kieffer (1840–1904). Kieffer was the grandson of Joseph Funk (1777–1862), a publisher of "shape-note" music. The shape-note notation gave different shapes to notes of different pitch, making it possible for untrained singers to read music. After he served in the Confederate Army, Kieffer and other family members reestablished his grandfather's business, which had been disrupted by the war. At the height of its popularity,
Musical Million
had as many as ten thousand subscribers. Keiffer also offered singing schools and helped found the Virginia Normal Music School, which later became a part of Shenandoah University.
Related Links: