THIS DAY IN VIRGINIA HISTORY
Click image for larger view.
August 07, 1761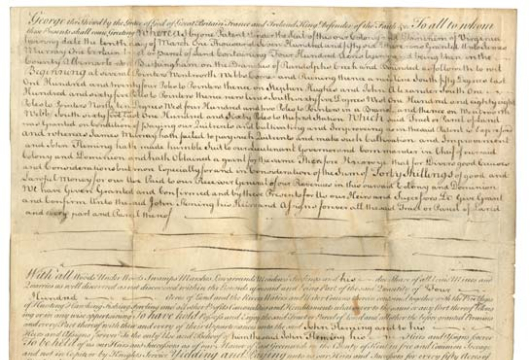 A Buckingham County Land Patent for John Fleming Was Recorded
This land patent, entered on August 7, 1761, granted 400 acres in the newly created county of Buckingham to John Fleming. The document is a form prepared by a writer in the secretary's office and later filled in with the information pertaining to Fleming's grant. Fleming successfully petitioned Francis Fauquier (1703–1768), then lieutenant governor of Virginia, to take possession of the land after its original grantor, James Murray, failed to pay taxes on the land or to improve it as outlined in his patent agreement. Four years later, in 1765, Fleming obtained a patent for an additional 400 acres of land, previously owned by Thomas Henderson, adjacent to his 1761 purchase.