THIS DAY IN VIRGINIA HISTORY
Click image for larger view.
August 02, 1706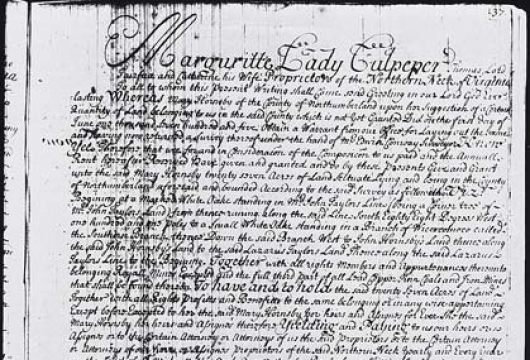 A Land Patent for Mary Hornsby Was Registered
This land patent registered twenty-seven acres of land in Northumberland County, a part of the Northern Neck Proprietary granted to Mary Hornsby. Lady Margaret van Hesse Culpeper (1635–1710) was the mother of Catherine Culpeper Fairfax through whom the Northern Neck Proprietary descended from the Culpeper family to the Fairfax family. This patent is unusual in that land was seldom granted to a woman instead of her husband or trustees. The description of the tract included in the survey notes that the land was located near the Southern Branch of the Wiccocomoco River (today spelled Wicomico).