THIS DAY IN VIRGINIA HISTORY
Click image for larger view.
April 17, 1861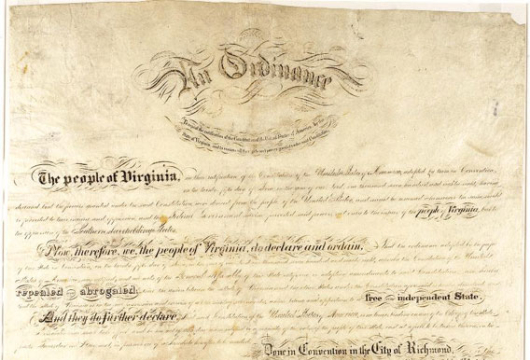 The Virginia Convention Voted For Secession
In February 1861 Virginia's General Assembly called for a special convention to decide its position on secession. On April 4, 1861, the convention voted eighty-eight to forty-five against seceding from the United States. After the firing on Fort Sumter and President Abraham Lincoln's call for 75,000 volunteers to put down the rebellion, the delegates on April 17 voted eighty-eight to fifty-five to secede. On May 23, 1861, Virginia voters ratified the Ordinance of Secession repealing the state's ratification of the United States Constitution. Virginia subsequently joined the Confederate States of America, and Richmond became the capital city of the new nation.
Related Links: