THIS DAY IN VIRGINIA HISTORY
Click image for larger view.
April 12, 1926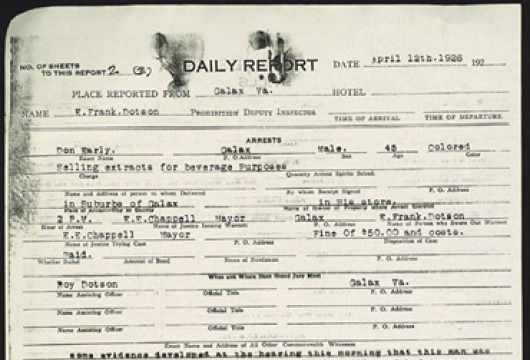 Prohibition Deputy Inspector E. Frank Dotson Filed His Daily Report
The Virginia Prohibition Commission was established by an Act of the General Assembly in 1916. It was charged with preventing "the sale and use of ardent spirits." For many years, the names of persons arrested for prohibition violations were published in the Prohibition Commission's annual report, along with the fines imposed, and amount of jail time, if any. In 1926, Don Early was arrested in the suburbs of Galax for "selling extracts for beverage purposes." This report states that he was hiring boys to purchase cases of vanilla extract (extracts most often contain more alcohol content than beer or wine) at a wholesale grocer in Galax. He was fined $50 and costs.