THIS DAY IN VIRGINIA HISTORY
Click image for larger view.
April 01, 1957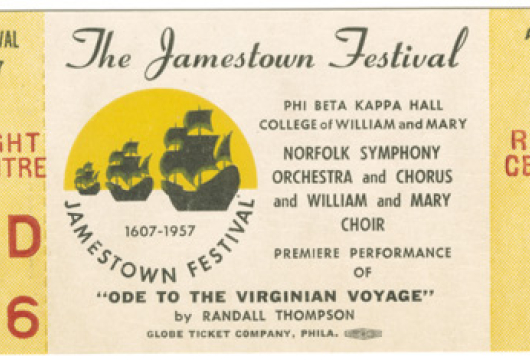 Ode to the Virginian Voyage Was Performed
In 1957 Virginia celebrated the 350th anniversary of the founding of Jamestown. As a part of the festivities, composer Randall Thompson (1899–1984) was hired to set the 1606 poem by Michael Drayton (1593–1631) "Ode to the Virginian Voyage" to music. Drayton composed the poem for the Virginia Company of London to help persuade men to travel to Virginia. Thompson used popular seventeenth-century musical forms for his choral reading of the Drayton poem. Thompson's music was performed for the first time by the Norfolk Symphony Orchestra and Chorus and the William and Mary Choir at the College of William and Mary.