THIS DAY IN VIRGINIA HISTORY
Click image for larger view.
September 20, 1945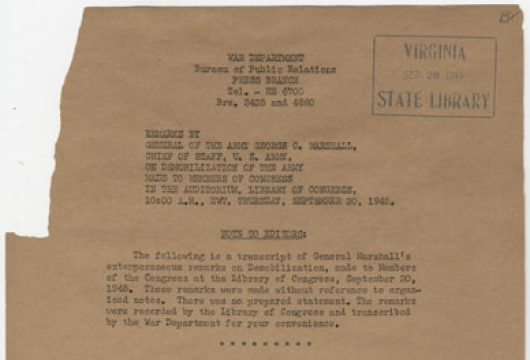 General George C. Marshall Addressed Members of Congress
General George Catlett Marshall Jr. (1880–1959) was the United States Army chief of staff during World War II and served as chief military advisor to President Franklin D. Roosevelt (1882–1945). The United States entered WWII in December 1941, and in 1945 after the surrender of Japan, Marshall initially oversaw the demobilization of the army. More than 300,000 Virginians served in the armed forces during the war, and approximately 12,000 died in military or auxiliary wartime service. Marshall believed that economic recovery was crucial and in 1947 proposed the Marshall Plan to rebuild Europe, for which he won the Nobel Peace Prize.